Professional Experience
CCH has operated surface coating and material combination for more than 35 years. Now we are an experienced & innovative Hydrographic film provider throughout Asia, Europe, America, Africa and Oceania. As a leading company of printing film, CCH always devotes in process improvement and quality enhancement. With continuous research and development on a variety of materials, CCH picks applicable film for printing and builds excellent equipment for new finishing processes. All of our "Know How" is patented.
Theoretically, we cooperatte with universities, research centers, and government financial department to share information; pragmatically, we examine the film quality and remove the process barrier in the industry. CCH aims to be the pioneer in surface coating innovation.
CCH's Timeline in Products & Service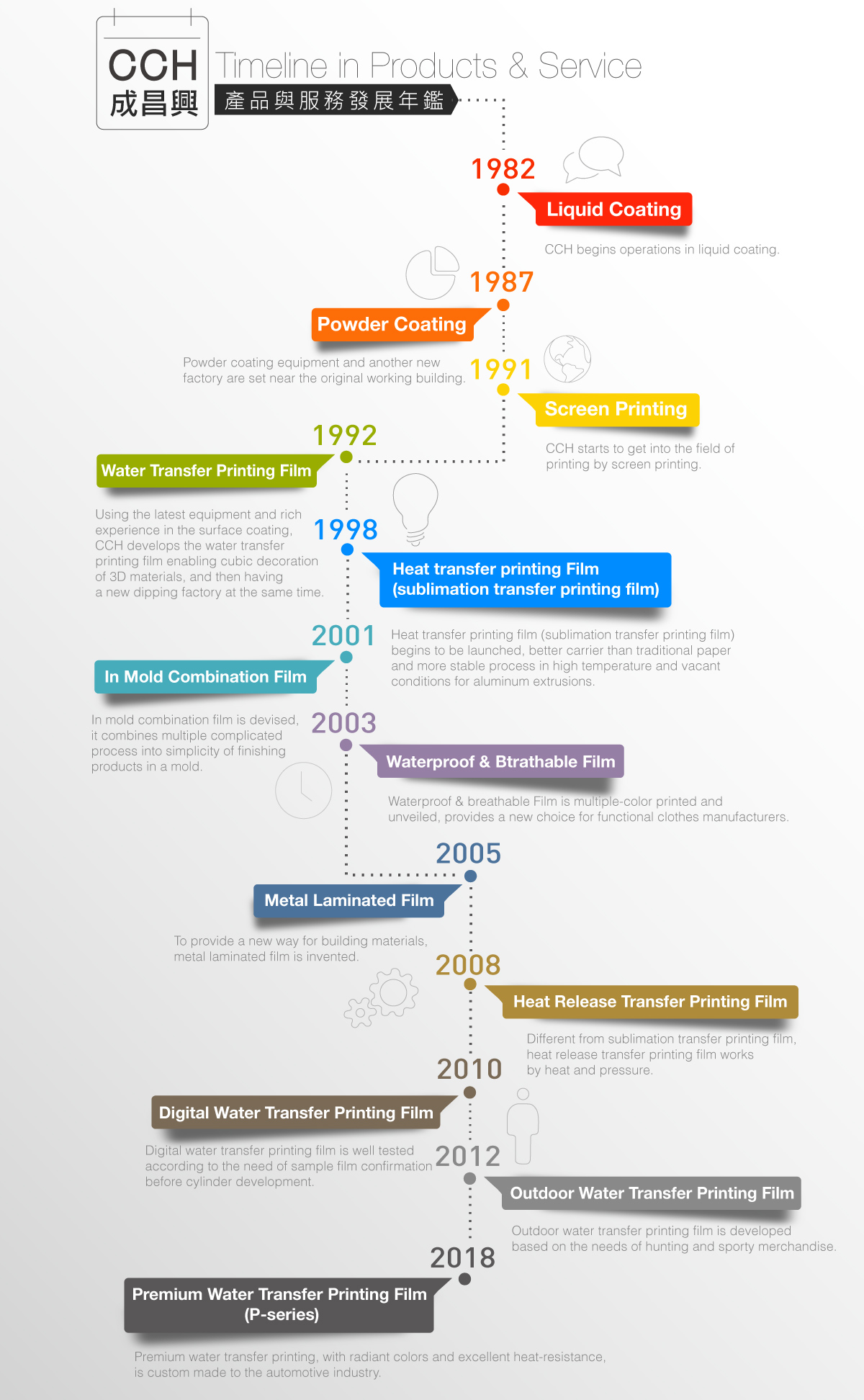 1982 Liquid Coating

CCH begins operations in liquid coating.

1987 Powder Coating

Powder coating equipment and another new factory are set near the original working building.

1991 Screen Printing

CCH starts to get into the field of printing by screen printing.

1992 Water Transfer Printing Film

Using the latest equipment and rich experience in the surface coating, CCH develops the water transfer printing film enabling cubic decoration of 3D materials, and then having a new dipping factory at the same time.

1998 Heat transfer printing Film (sublimation transfer printing film)

Heat transfer printing film (sublimation transfer printing film) begins to be launched, better carrier than traditional paper and more stable process in high temperature and vacant conditions for aluminum extrusions.

2001 In Mold Combination Film

In mold combination film is devised, it combines multiple complicated process into simplicity of finishing products in a mold.

2003 Waterproof & Btrathable Film

Waterproof & breathable Film is multiple-color printed and unveiled, provides a new choice for functional clothes manufacturers.

2005 Metal Laminated Film

To provide a new way for building materials, metal laminated film is invented.

2008 Heat Release Transfer Printing Film

Different from sublimation transfer printing film, heat release transfer printing film works by heat and pressure.

2010 Digital Water Transfer Printing Film

Digital water transfer printing film is well tested according to the need of sample film confirmation before cylinder development.

2012 Outdoor Water Transfer Printing Film

Outdoor water transfer printing film is developed based on the needs of hunting and sporty merchandise.

2018 Premium Water Transfer Printing Film (P-series)

Premium water transfer printing, with radiant colors and excellent heat-resistance, is custom made to the automotive industry.